Rogue Customers | Locksmith Blog
Topic: General Chatter
I have been experimenting lately with review websites and applications to start publishing customer testimonials on my locksmith websites. Its all going well at the minute, however my main concern is running into rogue customers that find your details through these websites and then can effectively hold you to ransom.
Other platforms such as Checkatrade require you to hand out feedback cards before work commences. The problem with this is if you should fail to jump through all the hoops, however unreasonable, set out by your customer you could be getting a poor review.

Spotting a rogue customer isn't always straightforward and the nicest of folk can turn on you should you refuse to haggle on price. I don't mind a bit of haggling but what I do mind is those that insist on haggling after the agreed work has already been completed and breaking the verbal agreement you had.

It goes without saying that anyone that calls a locksmith and straight out states they want it 'cheap' is going to be bother, so you need to choose carefully whether to accept this kind of customer or tell them to jog on. We offer a specialist service as locksmiths and nobody wants to earn the reputation of the cheap guy. Anyone can work all day for peanuts but you certainly can't run a business that way.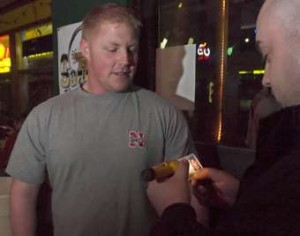 Non payers are another rogue that you need to be aware of. I find working as a locksmith the usual suspects that regularly give me grief are small time estate agents and letting firms that like to play middleman. However if they ar struggling to get their customer to pay they usually withold your payment too. Anyone that fails to pay regularly should be refused in the future as are more of a liability than a worthwhile customer. You can take as look at my debt collection guide for tips on dealing with non paying customers.
In the past I have run into my fair share of fraudsters and untrustworthy characters. It isn't always easy to identify them from a mere phonecall and somtimes you do not realise who you are dealing with until you are in front of them. There is always an element of risk when dealing with the public and you will undoubtedly run into the odd nutter now and again.

To protect ourselves when dealing with unsavoury characters it is always wise to check out ID and getting signatures to authorise work, some locksmiths go as far as requesting a photo of the customer for their records. Some of my past run ins as an emergency locksmith include violent non payers, a squatter that conned me into opening a property for her, evicted tennants gaining illegal access back into the property and even a guy posing as a bailiff.

Some would say this is all part and parcel of the locksmith trade but we can certainly do our utmost to avoid bumping into rogue customers that can cause unessessary stress or endanger us and our reputations.