Island Locks Training Course | Locksmith Blog
Topic: Featured!

This month I have decided to feature a locksmith training course based in Middlesex, Island Locks.

It goes without saying that you have probably already heard the name Jay Dorner on various locksmith forums or via his immensely popular Youtube channel featuring lock picking demonstrations and techniques that are taught on his locksmith training course.

I have been a member of his purpose built locksmith forum at http://www.islandlocksforum for a few years now. It was initially built to support his trainee's whilst they establish their own business, however this forum attracted a lot of attention due to its loyal following and incredibly useful resources. It is well worth joining if you haven't already found it.
What is most striking on this locksmith training forum is the lack of prejudice against newcomers and the willingness of more knowledgeable locksmiths to share information and offer advice.

As for the quality of Island locks training course, the testimonials speak for themselves. Jay has clearly played an immense part not only in providing sufficient locksmith training but also ensuring his trainees set off on the right foot and build a successful business.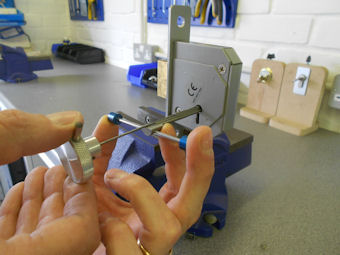 There are so many locksmith training companies out there that will churn out new 'locksmiths' at an alarming rate offering no further support or help once the course is over with, most of which fail within the first six months of setup.

It is clear from being a member of Island Locks Forum that the success rate is considerably higher than even some of the most reputable locksmith organisations advertised online. With Island Locks there are no subscription fees or memberships to ensure you remain in 'the circle' and to make a bit more profit. Its forum is completely free to anyone wishing to look into joining the locksmith profession seeking a little more information and advice before investing and money.

In my opinion ,and in fact many other peoples opinions, this is currently the best locksmith training course in the UK with the friendliest gang of followers on the internet.

Rick

You can contact Jay at Island Locks directly at:

Mob: 07960 231418 Email: info@islandlocks.co.uk