National Locksmiths. Are We Winning? | Locksmith Blog
Topic: General Chatter
As every genuine local locksmith firm knows, the battle against the national locksmith franchises is a real concern, we simply cannot compete with their massive advertising budgets that allow them to bend the rules that govern the rest of us self employed small firms.

Over the past years you have listened to me harping on about what we can do to counter these tactics. Most locksmith groups and forums have some sort of anti-national campaign on the go and everyone seems to be doing their bit to spread awareness of these scammers.

The big question is; Is our collective might greater than that of these huge locksmith firms?

Well I really think the tables have turned in our favour.

I have been asking every single customer I work for, where they found my number, why they chose my locksmith service over any other, etc. An overwhelming proportion are stating "I liked that you were really local", "I liked your article on national locksmiths", "I did not trust the other companies I rang".... it seems being upfront and informative on our websites really does work.

You know I am a big fan/hater of yell.com and I'm always keeping a close eye on them. They seem to be working overtime lately trying to create leads for their biggest customer, any UK locksmith will know who that is! All review widgets on the yell.com website have been removed from this national locksmith firms advertisements because the negative feedback would cripple them, that's not in Yells best interest. Yell.com hiding negative reviews.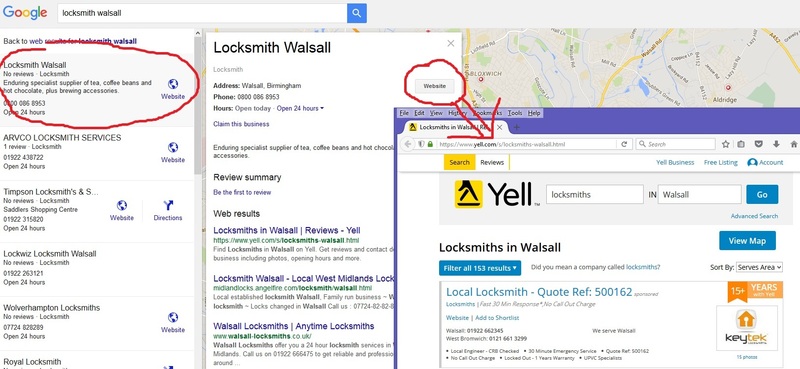 More worryingly is that Yell are now editing stagnant places pages they manage and turning them into locksmith listings that redirect to their locksmith pages. Guess which company sits at the top of all those pages... This is totally against all Googles guidelines and is a pretty risky move on Yells part which could see their privellages removed. Everytime you spot one of these suspicious listings with a link to yell.com be sure to report it using the feedback button at the bottom of the search page!
This desperate attempt to generate calls leads me to believe things aren't going too well.
I have heard numerous stories over the past few months about national locksmith firms telling potential customers that the genuine local locksmith firms are 'rogue traders' if they can work so cheaply and we are not to be trusted. Myself and many other lockmiths I know have experienced this, luckily the customers are smart enough to work out who the real rogues are after a brief chat.

I really think the combined effort of the small local locksmith firms is starting to impact these greedy national locksmiths and we must continue to educate everyone searching for locksmiths and every customer we meet.

Make sure your website explains that you are a genuine local firm and not part of any national franchise or call center, urge them to obtain as many quotes as possible and to ask all the right questions.
It doesn't have to stop there, there are so many ways in which you can prevent a national firm from duping another customer. If you cannot do a job, pass it to another genuine local locksmith that can, there are plenty of online forums and groups that allow us to refer jobs if you do not physically know another locksmith. Your honesty and helpfulness will be remembered.

Do not sub for these companies. Helping them get a foot in the door in your area is bad news all round. Why would you allow them to take your work and then give it back to you at a lesser rate? Once they have a few locksmiths to do their dirty work they will increase advertising in your area... it's a no brainer.

Right enough waffling... Keep up the good work.

Update
All the spam listings that were showing at false UK addresses were removed. Happy days